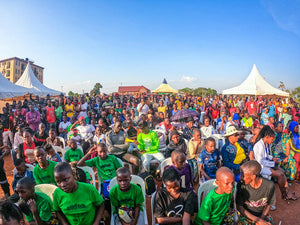 WE NEED YOUR SUPPORT
HYDF SHOW
WATCH THE HERSHYT SHOW
MEET WILLIAM C LINDSEY
Support Uganda's Break Dancing Stars of Tomorrow!
Greetings from 8robinsons.tv, The Bronx Boys Global, & supadopefresh.com! We're excited to share a unique opportunity for you to become part of Uganda's thriving break
dancing community. 
Break dancing, a vibrant fusion of energy, creativity, and
rhythm, has been embraced by Uganda's youth as a powerful medium of expression. It has given many a platform to tell their stories, stay active, and channel their energy into a positive and artistic outlet.
This year, we're sponsoring the 2023 Floor Fire Jam – an exhilarating break dancing competition that promises to showcase the best of Uganda's budding dance talent. But to make this event a reality, we need your support.